---
Leave a Comment!
---
---
You Can Do It!
How You Can Build A Home Black-and-White Photo Darkroom From Scratch

by Mason Resnick

Are you ready to dive, both feet first, into the art and craft of processing and printing your own black and white photos? Go ahead--thumb your nose at the digital world! Here is a brief overview of everything you'll need to get started setting up a home darkroom.

A basic darkroom requires three things: running water, sturdy work surfaces and total light blockage. A basement room, a kitchen or spare bathroom can be easily converted into darkroom space. Ideally, you should dedicate one room (which can be as small as 8x10 feet).

A darkroom is divided into a Dry Side, where printing, reel loading and other non-chemical tasks take place, and a Wet Side, where the actual chemical processing is done.

Dry Side Essentials: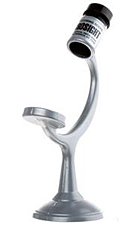 Wet Side Story: You'll need...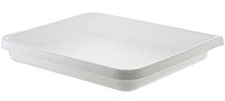 Running water, with as much temperature control as you can afford;
A sink, set in a countertop that's at least 5 feet long. This will give you enough room for trays, chemistry, etc.
One deep tray with holes on one side (you can drill holes yourself);
A short hose from faucet to deep tray;
Four smaller trays, preferably 11x14;
Print Tongs, for handling prints in processing trays;
Film clips; for hanging processed film to dry;
Small, medium and large graduates, for measuring and mixing chemicals
A funnel. An essential when pouring and mixing chemistry into small-mouthed bottles.
About 6-10 large dark bottles for chemical storage;
Surgical gloves and face masks, for protection while mixing and handling chemicals;
In general, you also need:
At least two safelights, one near the enlarger on the dry side and one over the trays on the wet side; A print dryer or blotter; A dust-free area to hang film to dry.
Making Your Darkroom Light-Tight

When designing a darkroom, be sure to block all light sources. If there is a window, use black masking tape and heavy gauge aluminum foil over the window, plus blackout shades. For doors, hang a blackout shade in front of the door that hangs to the floor and beyond the door's sides. If this is difficult, try to do most of your work at night, with lights out outside the door to the darkroom. If this is still impossible, buy a changing bag so you can load film even in daylight (film is more sensitive to ambient light than paper, so be really paranoid about light).

Just Breathe

Ventilation is also important. An air vent that doesn't let in light is essential, because the chemicals do give off fumes that are not especially healthy if subjected to prolonged exposure. (On the other hand, many master photographers had unusually long life spans, yet they spent hours a day in poorly ventilated darkrooms. Go figure.)

Call an Electrician

Since there are a number electricity-driven devices in the darkroom (enlarger, timers, safe lights and dryers, as well as a radio for entertainment), you'll want to have ample electrical outlets and enough current to handle the load.

Home Depot Is Expecting You

Make sure there is enough space to store everything, including a space to keep prints and extra paper. The best place for chemical storage is under the sink and tray area. A small refrigerator will help you prolong the life of your paper and chemicals, so that too is a good, though optional, investment.

Work surface should be a comfortable height for standing (around waist height--kitchen cabinets and counters, which can be purchased at home improvement stores, are ideal), and a comfortable raised chair will come in handy during long sessions. Also, a rubberized floor cover will make it easier on your feet when you're moving around.

Finally, if you have the space, leave room for finishing tasks: matting, framing, mounting. This could be in a separate room.


---
Show us your black-and-white darkroom--
Leave a comment!
---
Good Advice:
How to Choose An Enlarger For Your Black-And-White Darkroom
---
Buying Guide:
12 Top Black-And-White Enlargers
---
How To:
Develop Black and White Film At Home Like A Pro
---
FAQ:
14 Questions About The Black and White Darkroom
---